Welcome to Bunyip Primary School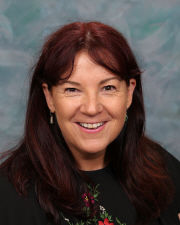 My name is Jenny Dowsett and I am very happy to have taken up the position as principal of Bunyip Primary School, in August (2017). Previously I was Principal of Moe Primary School for 6 years and Nambrok-Denison Primary School for 5 years. I also enjoyed 17 years as a classroom and Physical Education teacher in Moe and Boolarra.
I completed my teacher training in Bendigo and completed further studies, including a Masters of Educational Leadership with Monash University. I have particular interests and experiences with student welfare, school wide positive behaviour support, professional learning communities and staff health and well-being.
I have been to both Singapore and China on study tours to look at their education systems and make comparisons to the strengths within the Australian education system and opportunities for change and improvement.
A little about me personally – I grew up in Shepparton with 4 sisters and 3 brothers. I moved to Moe to teach and loved Gippsland so much, that I stayed. I enjoy travelling and have been lucky enough to go to Antarctica, The Arctic, Scotland, Malta, South America, Fiji and Switzerland. I am hoping one day to travel to Italy.
I am looking forward to working with the community of Bunyip Primary School. I believe that providing all students with an excellent education is our number one purpose and that we can do this more successfully when we work in partnership together – school, family and the broader community.